Congratulations! You're expecting a bundle of joy and you're ready to start showing off that beautiful baby bump! Finding flattering maternity clothing doesn't have to be an uphill battle. Today we show you how to pick the best maternity dresses for work and beyond. Get ready for style that's both comfy and chic.
When you're pregnant, it can be hard to find clothing that is both stylish and comfortable. With so many changes taking place in your body during pregnancy, not just physically but emotionally as well, searching for the perfect maternity wardrobe — especially for work — can be a stressful process.
We've compiled a list of our favorite maternity dresses for the office and beyond that will make you look and feel beautiful throughout your pregnancy!
Whether you're looking for a comfortable maxi dress with adjustable waistlines, or something more professional like a shift dress with a tailored fit, we have plenty of options to choose from. We also offer stylish silhouettes such as empire waists, wrap dresses and A-line cuts to make sure you'll find something that flatters your figure.
Our collection features an array of colors and patterns in addition to basic chic neutrals like black and navy so that no matter what type of dress is your go-to before or after pregnancy, you'll be sure to find it here!
Types of Pregnancy Dresses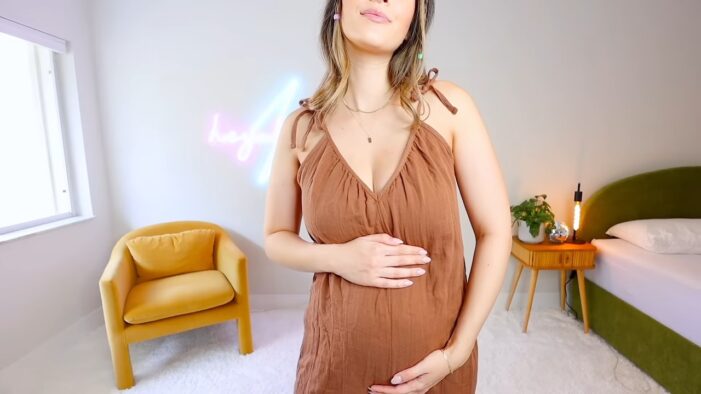 Finding fashionable and comfortable maternity dresses for any occasion – especially for work, can be a challenge. Selecting a maternity dress that fits in with existing professional attire can be especially tricky. Fortunately, there are now a variety of options available when it comes to maternity workwear.
It's important to invest in pieces that will grow with your body and be versatile throughout your pregnancy. Here are some of the most popular types of maternity dresses you should consider when updating your wardrobe:
Structured Dresses
These types of dresses provide great support for pregnant bellies and have defined shapes such as belted waists, pleats or adjustable ribbon ties that accentuate curves. Structured maternity dresses are most ideal for the office and can be dressed up or down depending on the occasion.
Wrap Dresses
Wrap-style maternity dresses offer adjustable fashion while providing easy access to nursing after pregnancy. These come in a range of prints, colors and lengths and will still look stylish once you've given birth.
Shirt Dresses
Shirt waistband styles give room to grow throughout all stages of pregnancy, while also providing comfortable coverage without sacrificing style.
Maternity Maxi Dresses
Perfect for days when you want to feel comfortable but still put together, maxi styles provide extra space in the tummy area due to their elastic waistbands.
Disguising pregnancy bumps and slimming silhouettes make these perfect for wearing both during pregnancy and afterward on special occasions throughout motherhood!
Top Picks Dresses for Pregnant Women
1. Motherhood Maternity Dress with Waist Tie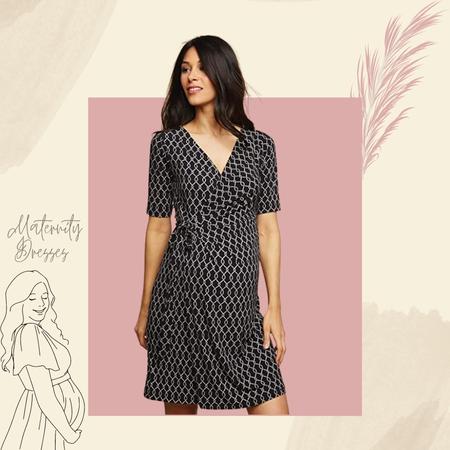 This dress is perfect for any occasion and can be worn to work, out to dinner or even as a sleepwear piece. The wrap top style is comfortable and stretchy, while the waist tie provides a feminine detail. Plus, the dress pattern ensures that this dress will stand out on any stage.
2. Motherhood Maternity Turtleneck Babydoll Dress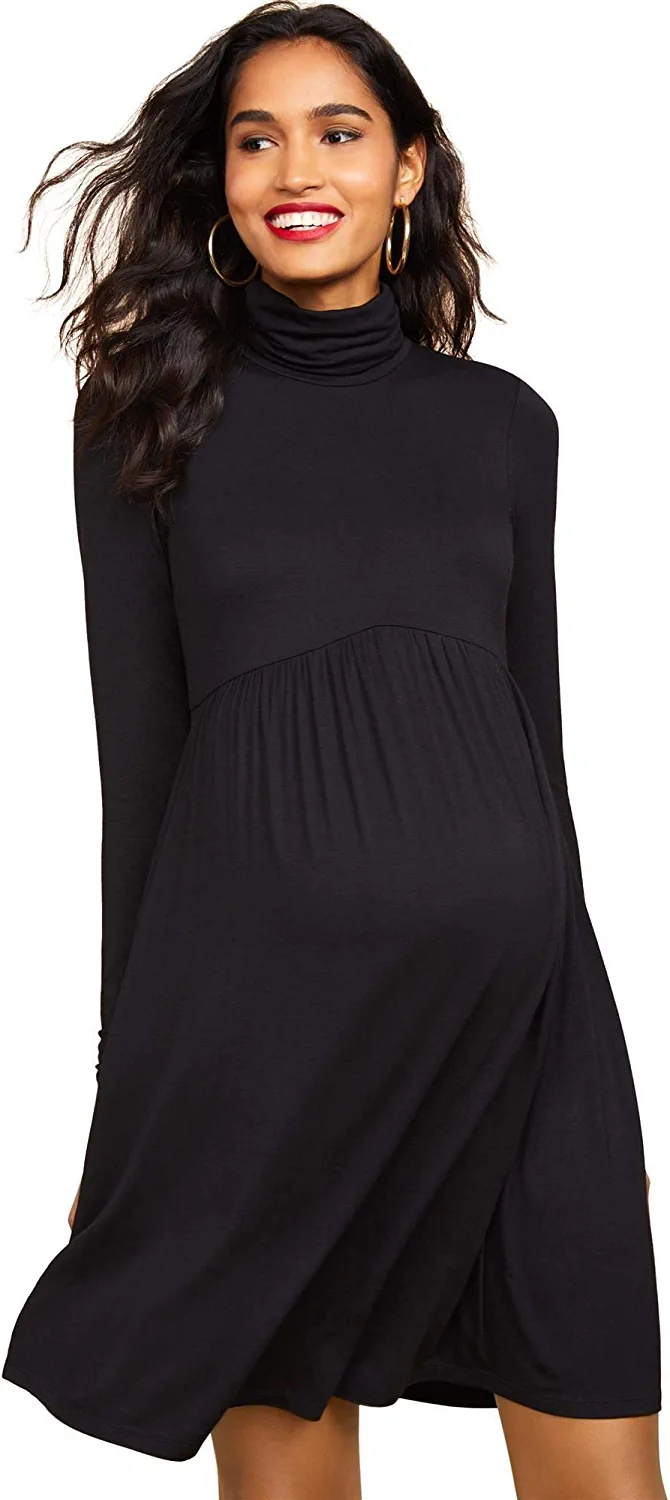 This dress is made from a soft, stretchy fabric that is comfortable to wear and flattering on all body types. The maternity long sleeve turtleneck babydoll dress also comes in several different colors and styles to choose from, so you can find the perfect one for you.
With its flattering empire waistline and comfortable fit, this dress will make you look and feel your best. The maternity pockets are also a nice bonus, providing extra storage for your belongings as you wear this gown through your pregnancy.
3. LaClef Midi Maternity Dress with Front Pleat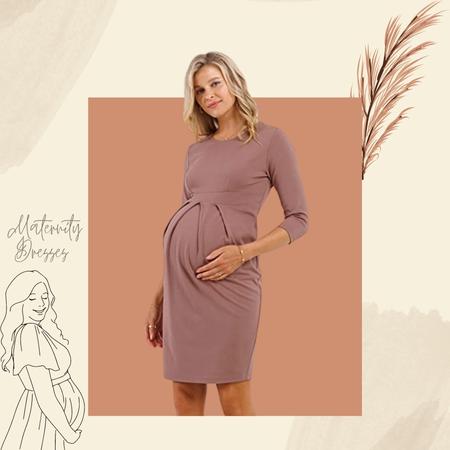 The front pleat adds an extra layer of sophistication to this dress, making it perfect for any occasion. The dress is available in sizes small to large, so you can find the perfect fit for you. LaClef guarantees that this maternity dress is designed to make you feel beautiful and confident.
This knee-length midi maternity dress is made from 65% viscose, 30% nylon and 5% spandex. The dress fits comfortably and can be worn during any season.
4. PrettyGarden Boho Leopard Print Maxi Dress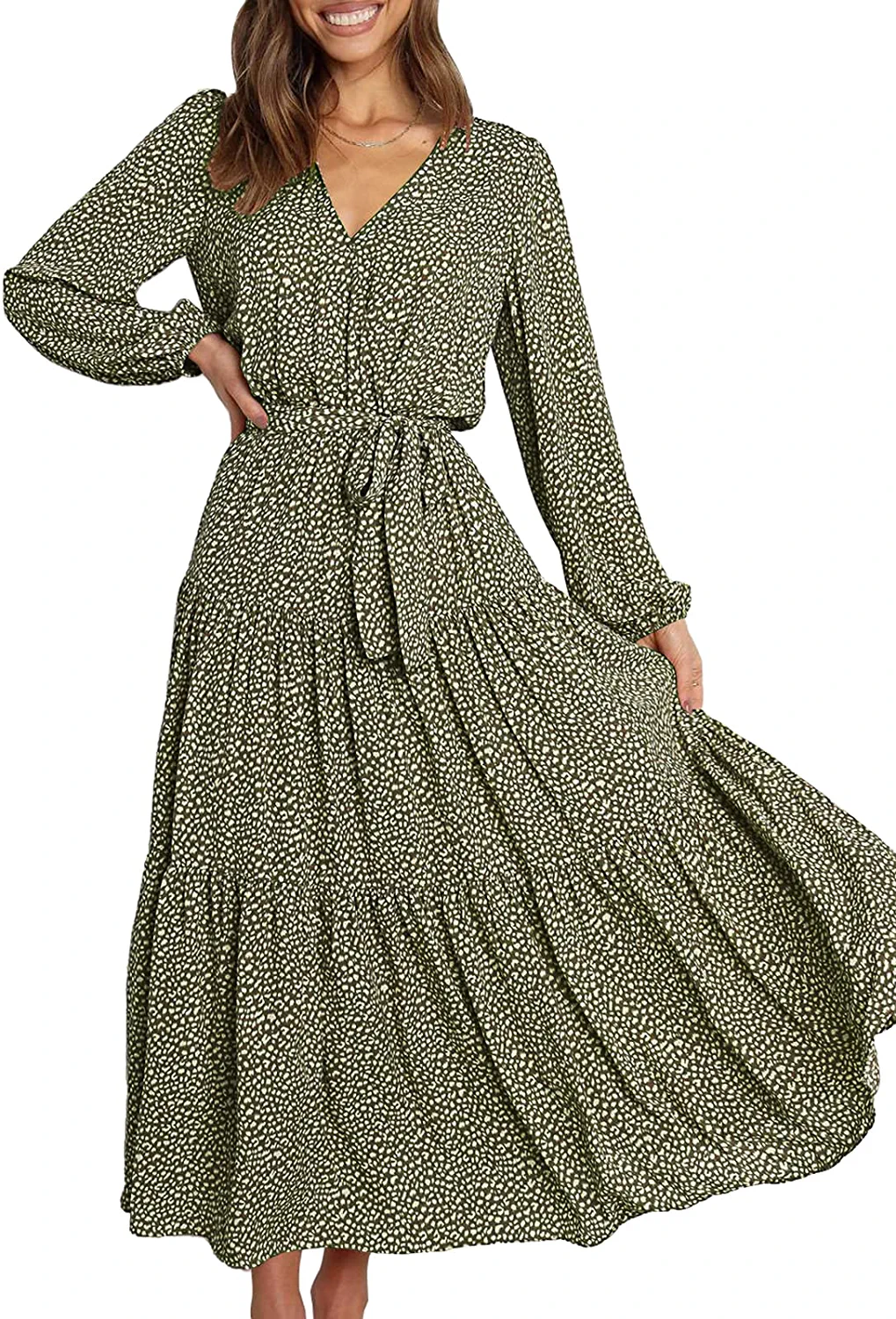 This is a beautiful maxi dress from PrettyGarden. It's made of chiffon and has a ruffle tiered hem. The front is cut low to show off your cleavage, and the fabric flows beautifully. The fit is flattering and comfortable, and it will be perfect for summer weddings or daytime events. Plus, the Leopard print makes it really stand out!
5. Romwe Pencil Dress

If you're looking for a dress that will keep you cool and comfortable in the summer heat, look no further than Romwe's maternity rib knit split-side sleeveless bodycon tank pencil dress. Made from 95% polyester and 5% spandex, this dress is light and airy, perfect for those hot days outdoors.
6. Smallshow Short Sleeve Maternity Dress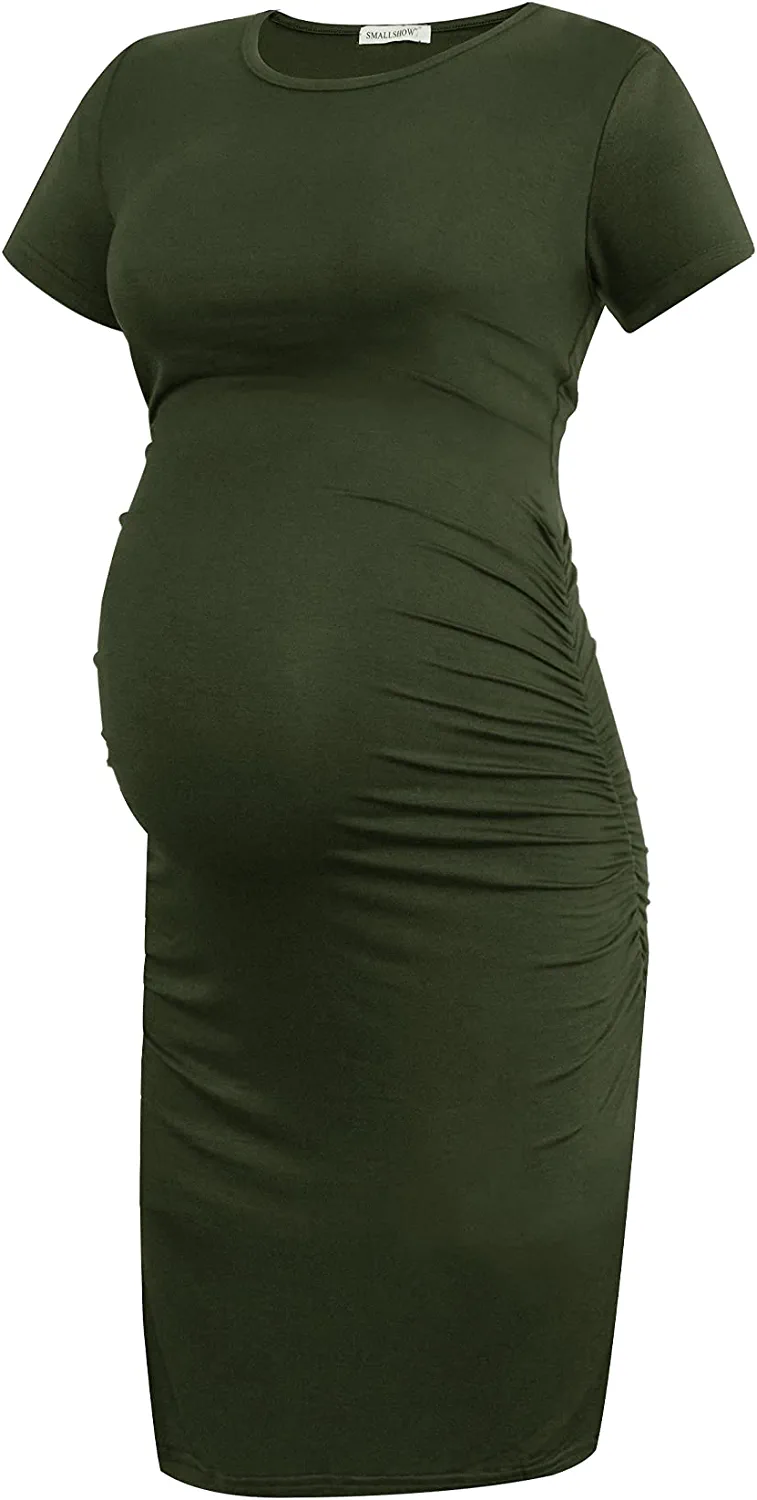 This dress is perfect for any expecting mother-to-be. The ruched design gives it a feminine look, while the comfortable fit makes it perfect for everyday wear. Plus, the color selection ensures that you'll find the perfect dress to match your style.
7. Grace Karin Women's Business Pencil Dress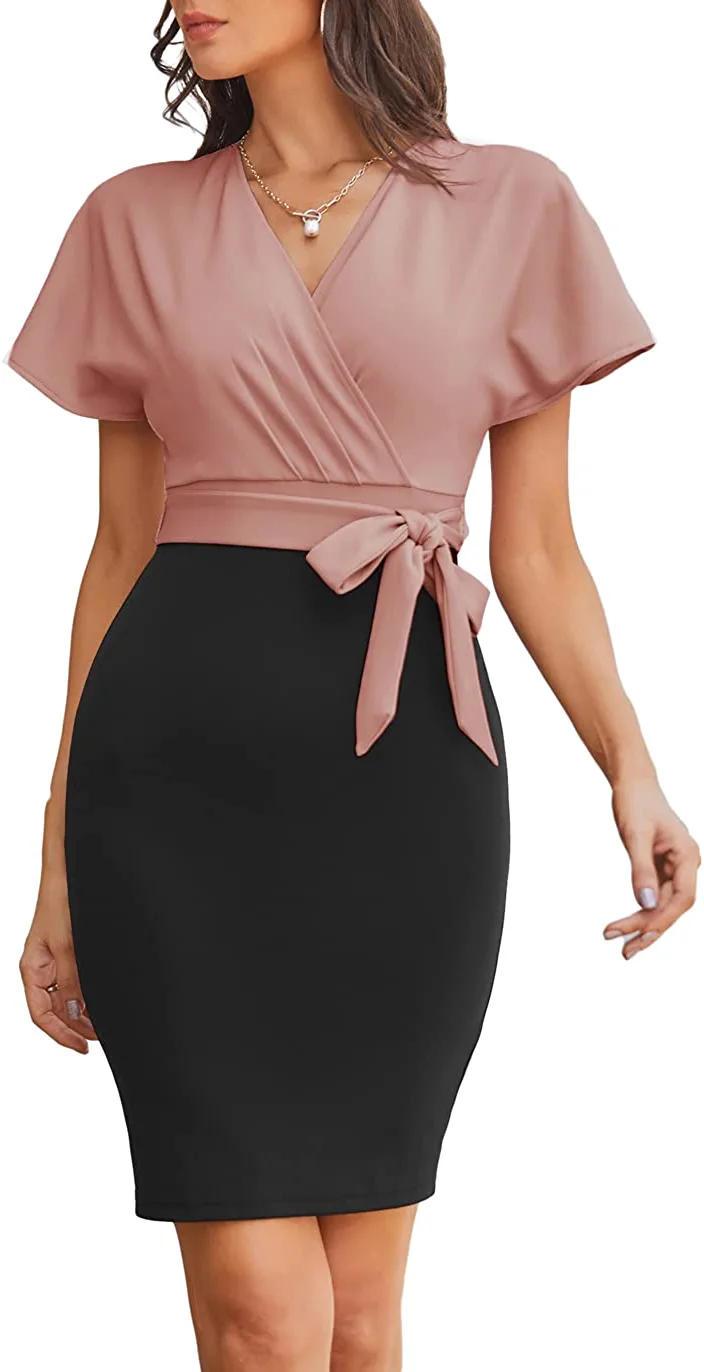 Looking for a sophisticated and professional dress to wear to your next formal occasion? Look no further than the Grace Karin Women's Business Pencil Dress. This dress is perfect for a wedding, office or cocktail party.
The tailored fit and flattering lines of this dress make it perfect for any special event. The versatile color options allow you to find the perfect dress for any event.
8. Maacie Maternity Bodycon Dress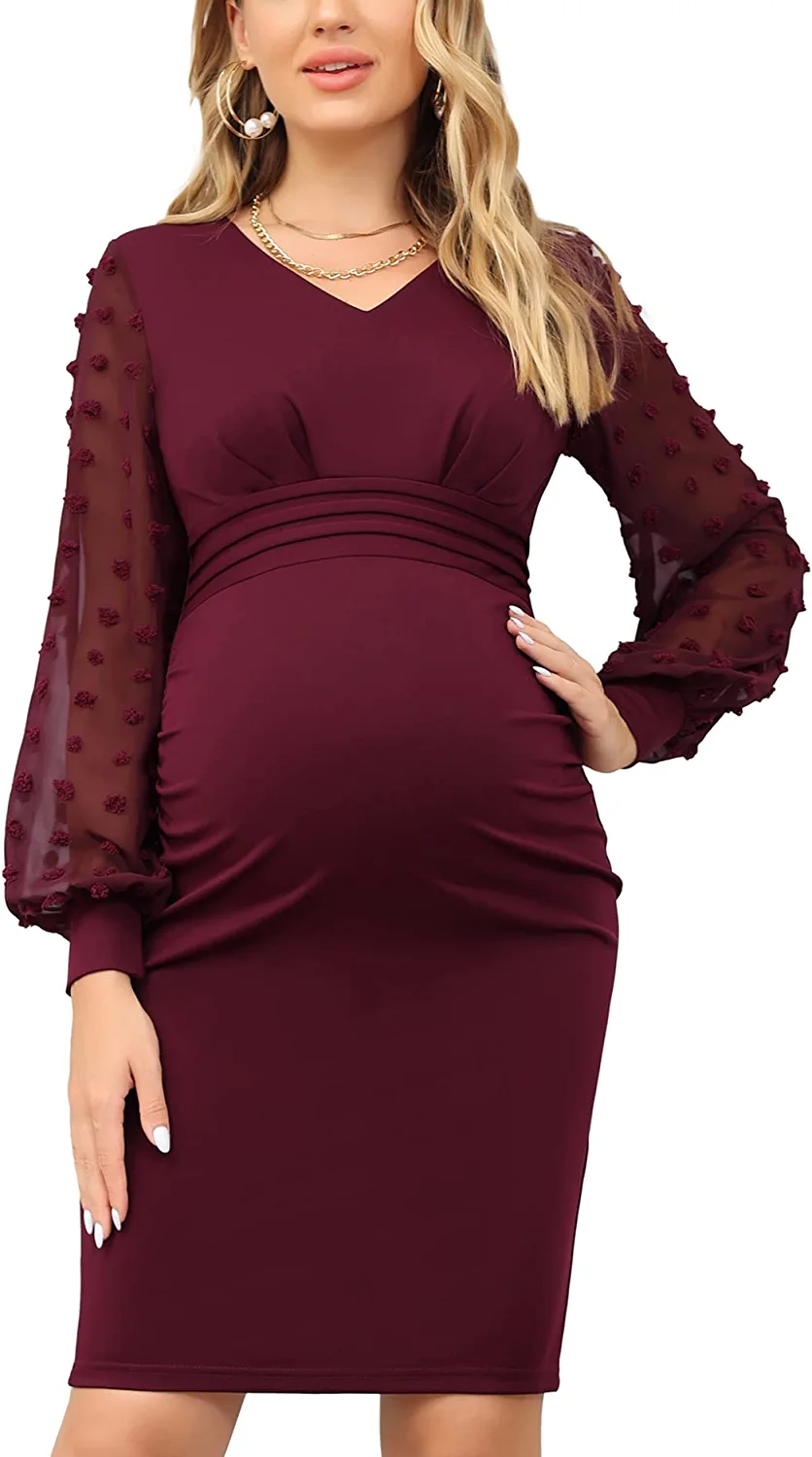 This dress is made from a lightweight, breathable mesh fabric that is perfect for hot summer days. The sheer design gives you plenty of exposure without being too revealing, and the long sleeve silhouette makes it versatile for any occasion.
9. PrettyGarden Women's Floral Summer Dress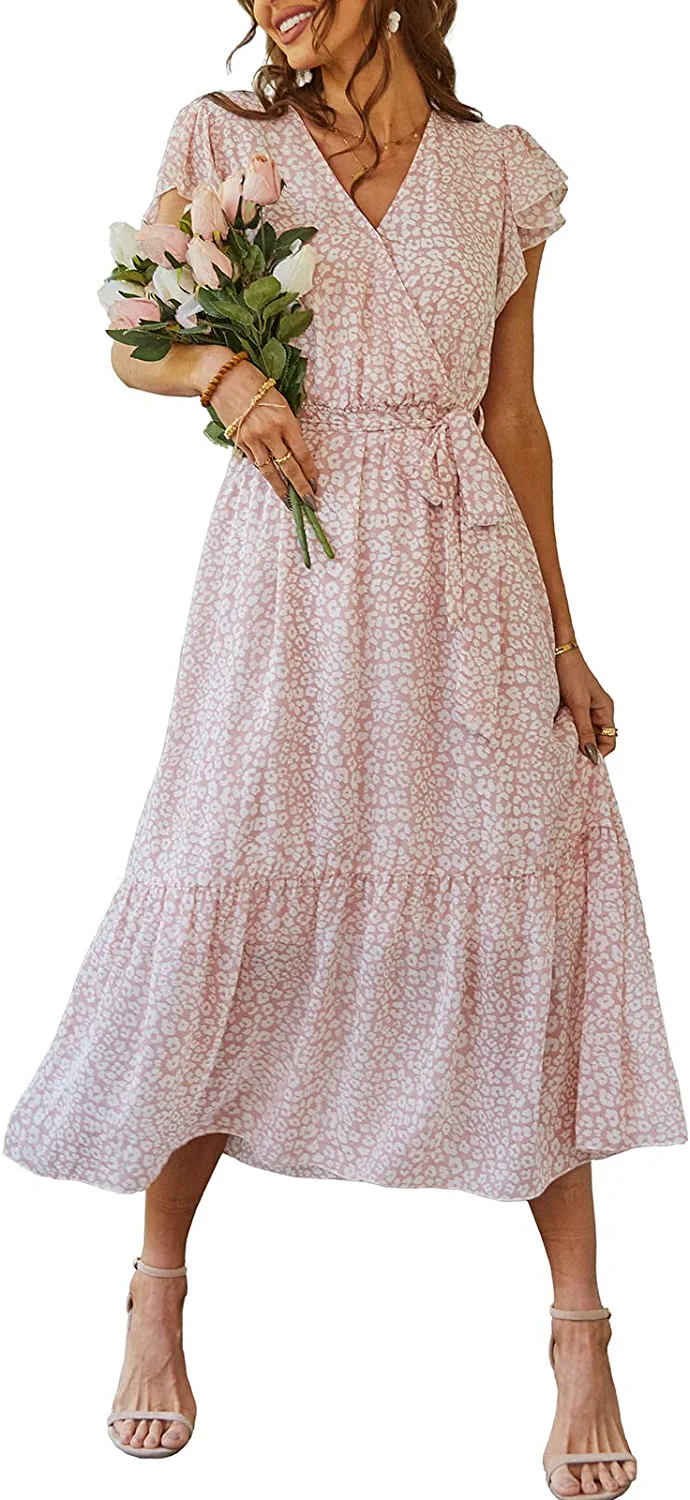 This dress is perfect for days spent outdoors and features a wrap neckline, short sleeves, and belt detail. The ruffle hem gives this dress an extra bit of flair, while the maxi length will keep you comfortable all day long.
10. Romwe Women's Twist Front Short Sleeve Maternity Dress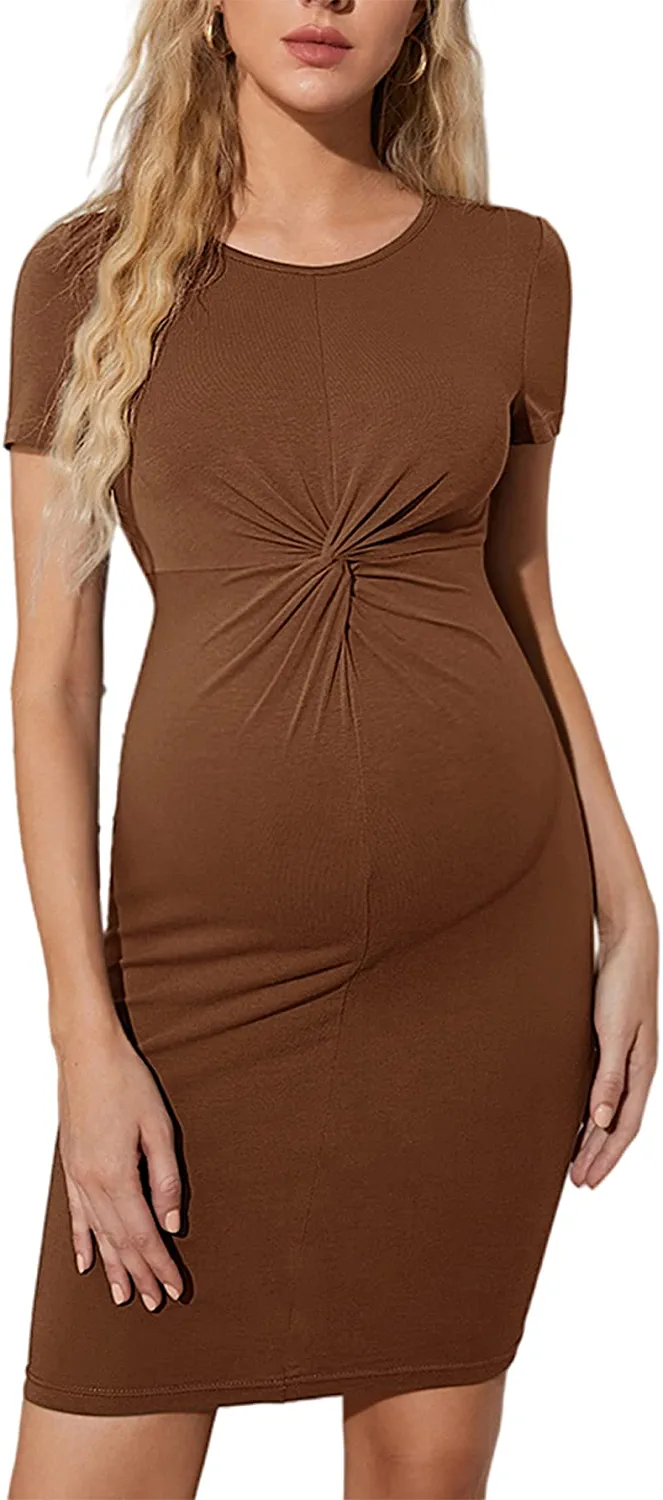 The crewneck neckline gives this dress a professional appearance, while the short sleeves ensure that you stay cool and comfortable during hot days. The hem of this dress reaches just below the knee, providing ample coverage for your growing bump.
Benefits of Wearing Maternity Dresses
Maternity dresses can be a great way for expecting moms to maintain their style during pregnancy. They offer unparalleled versatility, comfort and practicality to carry them through each trimester in style. From corporate chic to eveningwear, there are endless options to accommodate the changing body of an expecting mother.
The first benefit of wearing maternity dresses is their comfort and support. Whether looking for extra coverage or a bright-colored dress with a hint of trendy patterning, they are designed with elastic or stretch fabric that grow with you throughout your pregnancy.
They also provide an adjustable fit that can be tailored according to what your body needs most at any given stage.
Second, maternity dresses provide optimum breathability for added comfort and temperature control during warmer weather months (or when feeling hot flashes).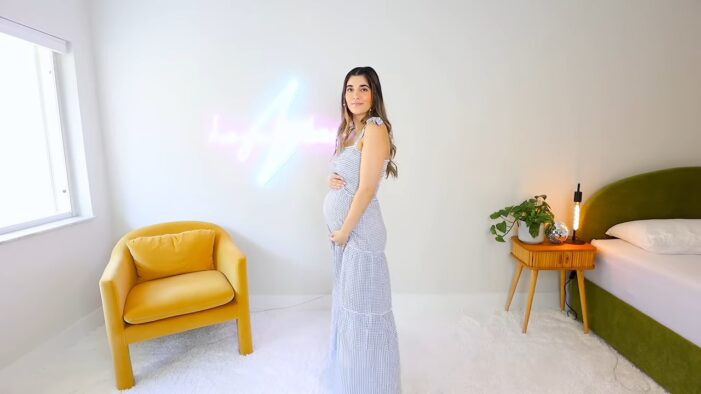 The best designs feature lightweight fabrics that allow air to circulate freely through the dress while wicking away moisture from the skin. These moist barrier materials trap bodily fluids and help keep you dry by preventing sweat from accumulating on your clothing and between skin folds.
They also often come with matching accessories, like shrugs, boleros or jackets which are perfect layering pieces to complete an outfit.
Finally, many maternity dresses exude sophistication and confidence. This means pregnant women no longer have to dread long days at work or special occasions spent on the go — there's truly something for every occasion!
Look professional in a sleek pantsuit or business dress featuring modern styling details customized specifically for expectant mothers with growing bellies; slip into an evening ensemble that is both hip and glamorous; make it simple yet stylish in neutral shades of black or white that always look classic; add some excitement with loud graphics or intricate patterns; no matter what you choose, the key point is letting your inner fashionista shine through!
Factors to Consider
When selecting a maternity dress, it's important to take into account factors that can help you find the best fit. Comfort is key and finding the most flattering style for your body shape is even more important. Consider these few tips when searching for a maternity dress perfect for work events or daily wear.
Fabric
Choose soft and stretchy materials that will move with you and not constrict your growing belly, yet still remain breathable enough to keep you comfortable throughout the day.
Natural fibers like cotton, linen, and bamboo are great options that offer exceptional breathability; however, synthetic fabrics like spandex aim at providing more body conformation to your figure as it changes size during your pregnancy.
Fit
When shopping for a dress, parameters such as trim fit in the waist, and stretch in the skirt area should all be taken into consideration to ensure durability and comfort throughout all stages of your pregnancy.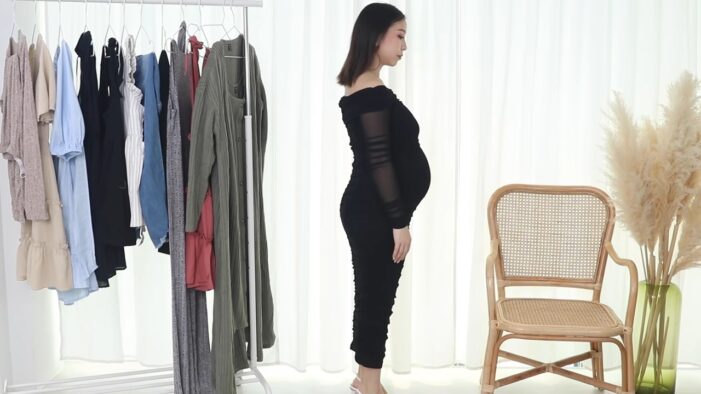 It's also good to opt for adjustable features such as drawstrings or tie pleats located in specific areas of the dress; this may allow you to adjust the sizing of certain parts based on your changing figure instead of having items tailored later which can save you time and money in the long run.
Length
Knee-length styles provide modest coverage while designed dresses longer than mid-calf are great if paired with leggings as they tend to be better suited for winter wear when covering up becomes increasingly difficult with rising temperatures indoors or out in nature.
Also if opting for shorter length dresses make sure they have enough room around the bust and hips area so as not to feel too tight on those parts of your body if adjusting is not an option due to no adjustable features being included in the design.
Tips for Choosing the Best Maternity Dress for Work
Finding the best maternity dress for work can be a difficult task. Not only do you want it to look professional and stylish, but you also need to make sure it fits comfortably through your pregnancy and beyond.
Here are some tips on what to consider when choosing the perfect work-appropriate maternity dress:
1. Comfort: Choose a dress that isn't too tight or restrictive, but still looks put-together and appropriate for the office. Look for stretchy materials that are light, breathable and adjustable, such as lightweight lycra blends or natural fibers like cotton or linen.
2. Fit: Consider not just your present size but future sizes too. Go for dresses that fit at your current bust measurement but can be adjusted or altered when needed in the future, such as gathering at empire waistlines or adjusters on skirts for changing hemlines.
3. Style: Try to find styles that can transition from the office to dinner dates and events easily, such as wrap dresses and A-line silhouettes that flatter throughout all stages of pregnancy. Also, look out for colors that suit both formal occasions as well as more casual days in the office – navy blue is a great neutral shade while brighter colors may give you more energy!
4. Accessorize: To add versatility, pair dresses with statement jewelry pieces like necklaces, earrings and rings that match any of your co-worker's clothing style without being too overbearing. Another option is a scarf or coordinating blazer – both accessories can make any outfit appear more polished and professional right away!
How to Care for Your Maternity Dresses
When you purchase maternity dresses for work or other occasions, it's important to take good care of them for long wear and good looks. Follow these tips to help ensure that your maternity wardrobe stays looking its best:
Make sure to wash your maternity dresses according to the instructions on their label. Most clothing should be washed in cold or lukewarm water and either air-dried or tumble-dried on low.
If you need to iron any of your maternity items, use a delicate setting and test the iron temperature on a small area of fabric before pressing it up against the fabric.
For formal occasions, consider having certain items professionally dry cleaned only so they stay looking their best for longer periods of time.
When storing your maternity garments, remember that wool and other delicate fibers are prone to insects, so store items in airtight containers or sealed plastic bags and keep them away from sunlight which can cause fading.
Remember that some fabrics may shrink after washing, so if this is a concern, hand wash any delicate fabrics in cool water and line dry as recommended by the care label.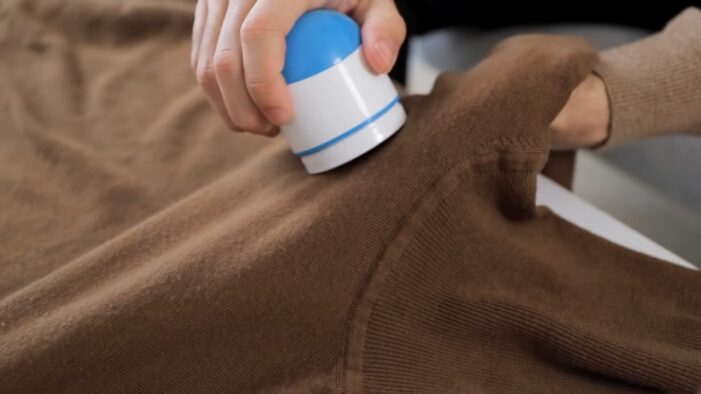 Conclusion
When it comes to finding the best maternity dress for work, comfort and style are key. Be sure to consider fabrics that stretch and provide breathability, as well as cuts that flatter your bump and provide ease of movement. Look for dresses with necklines for easy nursing access, or opt for a dressy two-piece that can be worn with your favorite accessories.
Consider investing in quality pieces that last through more than one pregnancy and look great when layered together or mixed and matched. Finally, keep in mind practical features like pockets and heat retention features like lined fabric options if you plan on dressing up through the winter months. Regardless of your needs, you don't have to sacrifice style during pregnancy with the right pieces at hand.
If you're interested in pregnancy tips, fashion, child care and more, be sure to visit babeswithbabies.com.